Top Overall Implementation Services Firm and Best in KLAS Go-Live Support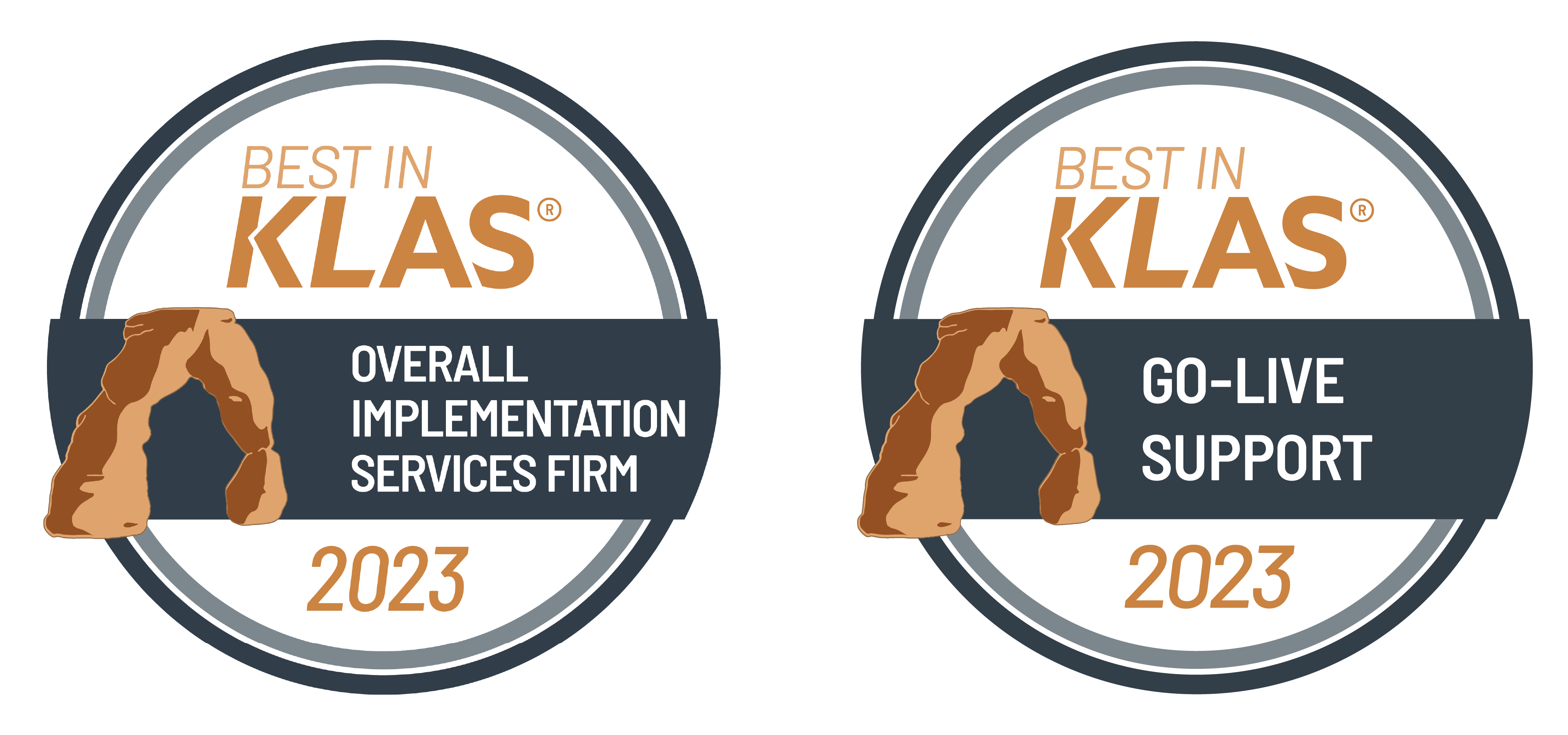 Medasource is already starting 2023 off strong, having just been honored with the title of Top Overall Implementation Services Firm and the Best in KLAS Go-Live Support award. The healthcare industry is evolving faster than ever, and we are extremely privileged to receive these recognitions highlighting the experience and dedication that we bring to our partnerships.
The Best in KLAS report is a data summary used to recognize the top HIT Service Providers and their respective offerings. KLAS gathers feedback from over 30,000 healthcare organizations concerning the HIT solutions that they have leveraged throughout the year. They are a trusted source for accurate and impartial insights as they work to increase transparency in the industry by amplifying the voice of providers and payers.
Receiving the title of Top Overall Implementation Services Firm and the Best in KLAS Go-Live Support Award signifies our drive for excellence and complete client support during the Go-Live stage of our engagements.
"When I have worked with other firms, I have never gotten the fluidity or execution that I get from Medasource. That is why Medasource will remain our permanent choice for at-the-elbow support. The at-the-elbow support people are part of what is called a thrive team, so even after we have gone live, Medasource can help us if we still need support. I have been very impressed with what the firm has been able to do for us. The good thing about Medasource is that they have a large number of subject matter experts. That has been very helpful for people like us who are looking for someone or something to help move the needle. We stay very connected with Medasource's executive leadership. Before signing the deal, the firm wanted to learn our back-end business model and to understand our people and our processes so that the firm could deliver on our needs. I thought that was impressive.
- CMIO, KLAS Review (June 2022)
For most of our clients, the Go-Live stage involves the process of making the new Electronic Health Record (EHR) available for end-users and requires 24/7 support to keep the implementation process running as smoothly as possible.
The need for qualified support is essential during the Go-Live stage of any implementation, especially when it comes to dealing with the unique field of HIT. Being familiar with the nuances of the healthcare industry is what separates the niche expertise that we provide from standard IT consultants. Whenever a problem does arise, we work diligently with our clients to limit any fallout or pain points in the process.
"We continue to use Medasource because they have come through for us on multiple occasions, sometimes when other firms' consultants have been terrible, and we needed new resources within the next day. Medasource is excellent at working out logistics; I don't have to deal with any of that. The account executive I work with is wonderful; I have been really impressed with them, along with the professionalism and knowledge of the Medasource contractors.
- Director, KLAS Review (June 2021)
Medasource's use of industry best practices and network of niche expertise allows for customized support during implementations, regardless of size or scope. We are flexible, adaptable, and able to meet the needs of our customers with a number of cost-effective solutions.
Our Professional Services solution delivers project-based results and manages ongoing initiatives. We step in where and when you need us. Clients can engage our Consulting Services to quickly address skill gaps with top-caliber consultants. For those who are looking for a more long-term solution, our Workforce transformation program is designed to upskill talent and build sustainable workforces for the future.
We pride ourselves on building long-term relationships and strong partnerships with our clients! This relationship-focused approach is why our clients can trust us for whatever needs they may have, especially during the Go-Live process.
What sets the relationships that we build apart from other service providers?
Our Holistic Approach: We strive to understand the needs and concerns of all stakeholders involved in the Go-Live process, from clients to consultants.
Adaptable Solutions: The needs of your organization are unique and so should be the solutions you engage. We are flexible, adaptable, and able to match our customers' needs with cost-effective solutions through many avenues.
Transparent Partnerships: Whether it's good news or bad, we make a point to be the first to share it with you. Fluid communication and reporting are the foundation of all our partnerships!
The KLAS Go-Live Support award is given to the top service provider determined by the confidential client feedback they gather and calculate to create a Best in KLAS score. Medasource has been a member of the Top 10 Go-Live Support Providers in the HIT industry for the past five years, but this year we've topped the list.
"We are so proud! It's very validating to receive this award. We pour our hearts into each Go-Live. All activations are crazy and stressful for everyone - our clients, our consultants, our project teams, and even patients! Go-Lives are massive team efforts, no matter the scope or size of the engagement. There are many sleepless nights creating and adjusting schedules, supporting the command center 24/7, and making rounds to ensure smooth adoption for physicians, clinicians, and support staff. We feel privileged that our clients trust and rely on us to help them cross the finish line for their EHR conversions time and time again. We're incredibly grateful for the distinction! I also want to give a special shoutout to our resource management team and our consultants - they are absolutely #1 in the industry, and we owe our success to them!
- Ryan Bulan, Vice President, Medasource
At Medasource, we strive to provide our healthcare professional partners with top-of-the-line service, emphasizing the importance of client satisfaction over anything else. Our team works diligently to ensure that we are leveraging the best resources for each project, gathering a support team to a single location in order to work seamlessly as a unit. This non-stop effort is what we strive to provide for every one of our clients to ensure that every Go-Live experience is as successful as it can be!
"Without our Resource Management Team and Go-Live consultants, we wouldn't be where we are. The amount of dedication and hours they provide on each project is worthy of an award in itself. We have high expectations, and they deliver time and time again. Receiving this award goes beyond an internal accomplishment - it's also an honorable mention to our incredible family of external consultants.
- Tyler Estes, Manager of Project Operations, Medasource
Winning the titles of Top Overall Implementation Services Firm and Best in KLAS Go-Live Support not only shows that we are the industry's best at what we do but also provides potential clients with impartial feedback concerning our support during the Go-Live process. Medasource could not be more honored to receive this award, and we are excited to continue providing our clients with the type of hard work and dedication that has distinguished us in the first place. We are extremely grateful for all our partnerships, past, present, and future, as we would be nothing without their trust and support.
We look forward to continuing to improve our Implementation and Go-Live Support process and growing to meet the always-evolving landscape of the healthcare IT industry. Contact us today to learn more about our work in Go-Lives and HIT!